Gartner's Adrian Leow made some key observations about low-code at the recent IT Symposium Xpo. Notably, Gartner's insights confirm why low-code is so often misunderstood and how to select the right low-code platform for your needs.
The 5 key low-code myths debunked by Gartner are:
1. Low-code is not new
Despite what some might think, low-code has been around for many years, evolving from 4GLs in the 1980s, then to BPMs in the 2000s through to Pro Low-Code Application Platforms (LCAPs) that are at the forefront of Gartner's Magic Quadrant today. What is new is that working with low-code has transitioned from 'nice to have' to a 'must-have'. According to Gartner, by 2025, 70% of new applications developed by enterprises will use low-code or no-code technologies.
2. Low-code is a paradigm, not a product category
Due to the way low-code evolved, it is often mistakenly viewed as a product rather than a technology approach to software development. Too often, this has led to low-code being pigeonholed into narrow functionalities rather than being viewed as a far-ranging tool with capabilities that can meet the diverse business needs of enterprise-grade companies.
3. Not all low-code is the same
According to Gartner, there are currently 400+ vendors in the low-code space, with 200+ offering low-code platforms. The dominant low-code technologies in the market include:
LCAP – Low-Code Application Platforms
BPA – Business Process Automation
MXDP – Multiexperience Development Platforms
RPA – Robotic Process Automation
SaaS – Extension Low-Code
iPaaS – Integration Platform as a Service
CADP – Citizen Automation and Development Platforms
Other Low-Code – Development Technologies.
As a result, there is a large variety of low-code platform types.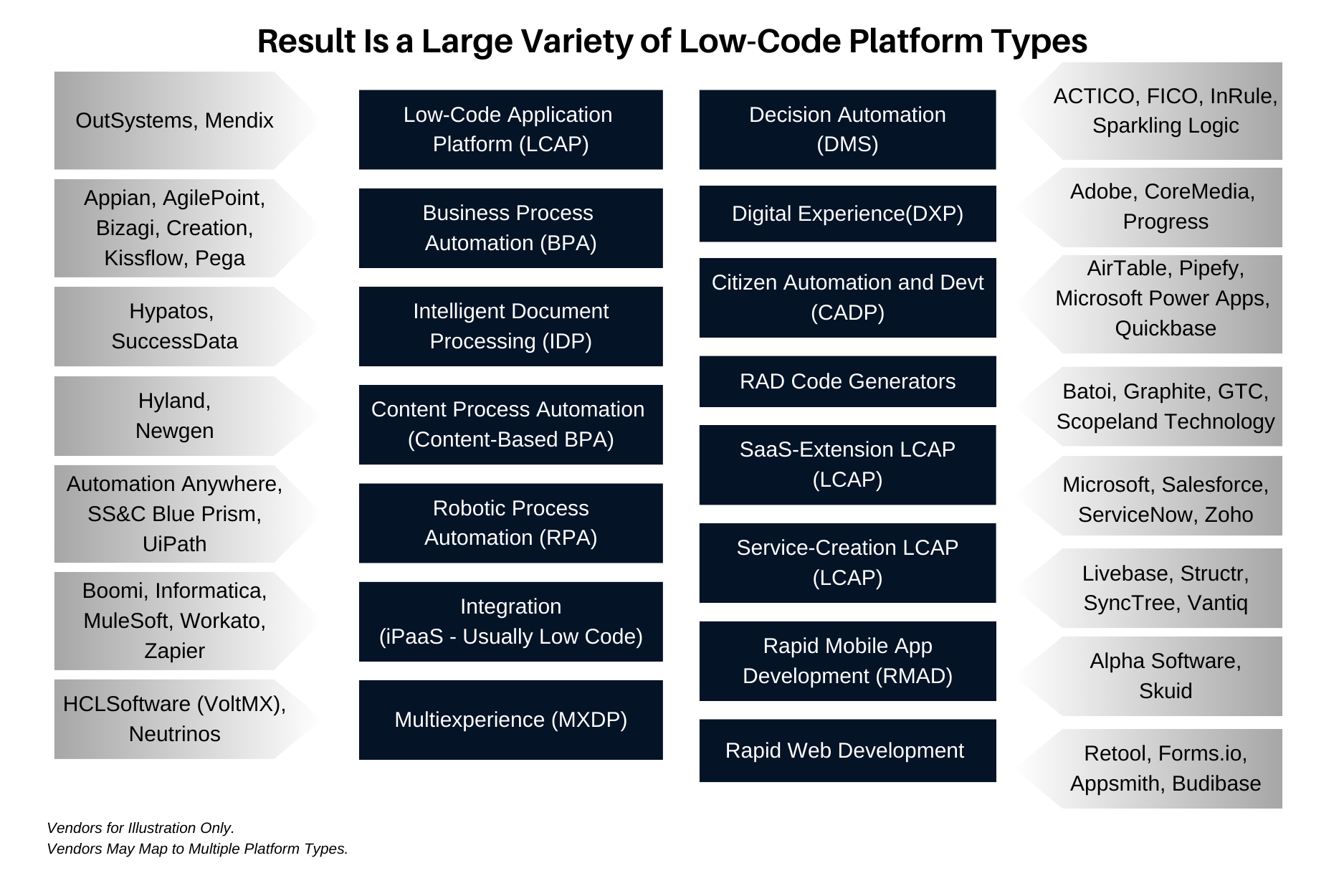 Of the key low-code technologies, some are more successful than others in delivering digital business platforms. According to Gartner, LCAPs stand out, achieving high success 5 times more than low success.
4. Low-code is not a toy – it's a serious technology that delivers results
LCAP usage is already high, with 44% of respondents surveyed by the research company currently using this technology approach. According to Gartner, an LCAP helps with the top three challenges software engineers currently face – talent, security and disruption – and is the first choice for reducing time to market without sacrificing quality.
5. Low-code is the future
Due to the ability of LCAPs to solve the most pressing challenges for IT leaders, Gartner reports that the market segment is expected to continue to grow rapidly in the years ahead, while other low-code technology segments with narrow focus, such as BPAs, are expected to shrink.
A key space to watch is the use of low-code for IT hyper-automation. According to Gartner, in the next 2 years, 20-80% of companies will employ low-code to achieve hyper-automation to improve productivity and reduce costs.
Which low-code should you choose?
The profusion of low-code technologies can make it hard for companies to choose the right platform for their business needs.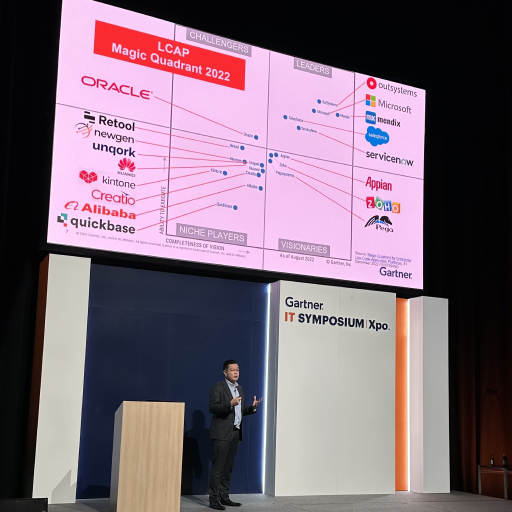 Gartner helps narrow the field by naming just 17 vendors in its Magic Quadrant. However, even the Magic Quadrant includes CRMs, ITSMs, BPMs and citizen developer tools. How do you know which one is the right one for your needs?
Organisations should consider the following factors:
Many vendors in the Magic Quadrant still rely excessively on proprietary programming languages and SDKs to 'finish the job' (e.g. JavaScript, APEX, Eclipse and Spartacus). In some cases, less than 50% of the work is done visually, so do they really qualify as low-code platforms?
Does it make sense to buy a CRM/ITSM/BPM system to build software? Whether you're in need of a portal, mobile app, customisation or bespoke core system, it's vital to understand whether these systems can handle the required data storage, system integrations and hosting options. Can their DevOps offering manage and evolve the software created?
The key takeaway is that if you want to build serious apps, you need a serious LCAP.

OutSystems' enterprise-grade platform is at the vanguard of the low-code evolution. OutSystems has been named the #1 platform in Gartner's Magic Quadrant for 2 consecutive years and a leader for 6 consecutive years. A pro-LCAP, OutSystems is the most complete offering in the market with a focus on the full suite of use cases for digital transformation.
The platform fulfils mission-critical needs such as end-user experience, scalability, performance, automation, high availability and multi-tenancy. It's ideally suited to enterprise-grade operations requiring complex business logic and consumer-grade user experience (UX) for millions of end users. Further, solutions built with OutSystems can easily connect with legacy and other enterprise systems to save millions in operating expenses.
To find out more about OutSystems, let's talk.