New technologies are released every day, and existing ones constantly evolve. 
 It can be challenging to know what new technologies are worth betting on and investing in.

You need to take risks to become a leader. Forward-thinking technology leaders can reinvent their business model and innovate to promote business growth in any situation.
Businesses with old legacy systems and complex ecosystems risk being left behind – especially if they don't build the architecture they need to leverage future technologies. It's challenging, expensive, and sometimes impossible to incorporate new technologies into old systems.
How can you enable your company to keep systems current while rapidly responding to future requirements?
You can modernise your technology portfolio by implementing 
 a modern application delivery platform, such as OutSystems.
OutSystems works as a unifying layer, connecting all your systems and providing flexibility to existing ecosystems. It allows organisations to extend the functionality of existing system investments and create innovative applications leveraging emerging technologies, relevant now and in the near future.
You don't need to start from scratch. The OutSystems component repository of reusable, open code modules, connectors, and UI components allows you to unlock the benefits of new technologies without building them yourself.
90% of CEOs believe
 the Digital Economy will 
 impact their business but less than 15% are executing 
 on a Digital Strategy

Reduce risk and investment while innovating
Focusing on the following key points and avoiding these common mistakes is a great place to start.
1.  User and experience comes before technology
Innovation goes hand-in-hand with learning. IT and business users 
 need to work together without the back-and-forth of traditional 
 slow app development processes. Learning is part of the process. 
 If you are going to fail, you need to fail fast and learn even faster.
The capacity for change is an integral part of the OutSystems platform approach. 
 An enterprise modern delivery platform offers a fully integrated approach to development, quality assurance, governance, deployment, and management – 
 the entire application lifecycle – enabling it to support enterprise-scale application development. The platform can accommodate all stages – from mockup to an enterprise-grade digital product, making it easy to prototype, test and modify 
 your applications.
Traditionally, technology can quickly become obsolete even after you have 
 invested a lot of time and money implementing it, leading to a poor return on 
 your investment. However, when you develop applications with OutSystems, they are future-proof. OutSystems evolves its technology foundation as technologies evolve, taking advantage of new frameworks and capabilities whilst protecting 
 your investment in business solutions.
Here is how…
A platform that makes it easier to get access to any technology, now and in the future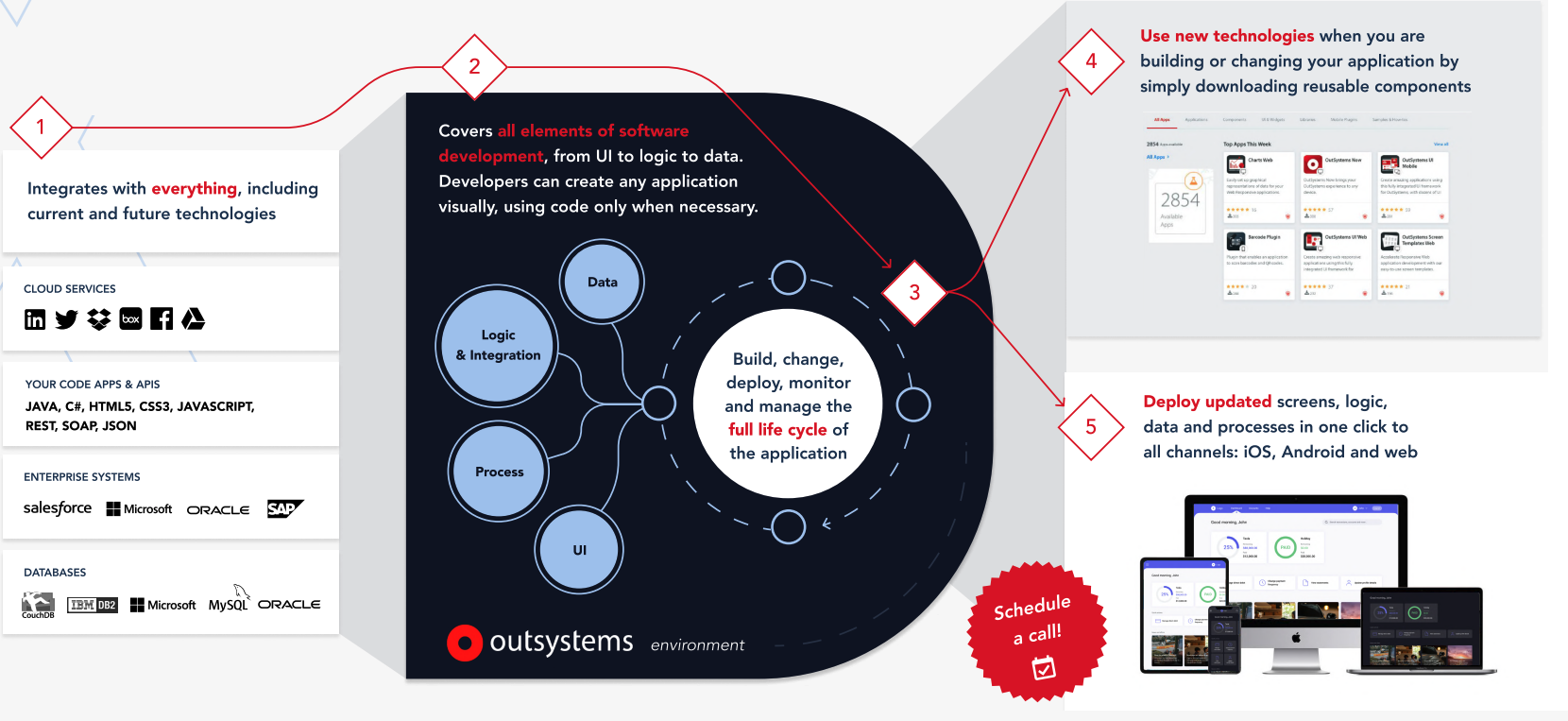 With OutSystems, you can start using state of the art technologies now
Digital Identity Verification
 
Provide a modern customer onboarding experience with identity verification workflows for different customer identification scenarios. Perform face matching for opted-in users by comparing a photo with an identifying document like a driver's license.
Video Call Validation 
 
Deliver video engagement to customers and employees for various use cases, including identity verification during customer onboarding or field services support.
Internet of Things (IoT)

The IoT is a giant network of connected "things" (which also includes people). Thanks to APIs, building a mobile application that connects physical devices with existing data and business processes is simple using OutSystems.
Digital Twins

A digital twin is, in essence, a computer program that uses real-world data derived from IoT, to create simulations that can predict faults or maintenance issues or how products will perform. Using OutSystems, you can integrate IoT, AI and software analytics to predict future trends and behaviours.
Self-Service Chatbot
 
Reduce pressure on call centres by providing AI-powered chatbots and the ability to escalate to a human support agent if required.
Customer and Employee Engagement Virtual Personal Assistant
 
Offer new ways to engage with customers and employees using voice and Virtual Personal Assistants (VPAs) such as Alexa.
Multilingual Chatbot
Provide chatbots that can communicate in any language to support different customer and employee use cases
Multilingual Video Interaction
 
Deliver real-time video interaction to support new customer engagement use cases, for example, telehealth
Using new technologies to solve old problems
Adopted by multiple leading organisations worldwide, OutSystems has helped them genuinely transform their digital capabilities through their modern platform. PhoenixDX is a leading OutSystems partner in Australia, with an expert team ready to help you develop the applications you need in record time.

A global consortium of businesses
It only took to upgrade and replace a "LinkedIn like" Android app for 50,000+ community members. They delivered a "YouTube" and "Spotify" style app in less than one year and deploy new releases every week.
Legacy modernisation leads to a reduction in costs by 70%
Improved customer experience and increase in engagement
An increase in subscriptions leads to an increase in revenue
Within 6 months of deployment, the cost of building the new app was covered by the cost of maintaining the old one
Differentiates them from other businesses by providing an app that serves the community with video, music, images, contacts and news.

Leading interpreting 
 and translation provider
The application is "Skype-like" and allows both interpreters and customers to securely connect in real-time using their mobile or tablet.
The new app generated immediate value for their customers,
reducing customer waiting time from one business day to 60
minutes. Enabled the business to connect customers with
interpreters during the COVID pandemic remotely
ASAP booking requests have provided a new revenue stream
They transformed their service offering model and operations by adding the digital service option to their portfolio.
Talk to us about transforming your ideas into business value. Fast